RED HANDED: Gateway Pundit identifies Georgia's overnight suitcase vote counter as Ruby Freeman
---
Through researching video of the infamous Georgia election night water pipe explosion, The Gateway Pundit says it has identified one of the overnight vote counters who remained behind after observers were sent home, and then began counting votes that were concealed in black suitcases underneath a table.
(Article by Tom Pappert republished from NationalFile.com)
The Gateway Pundit's Jim Hoft identifies the vote counter, an African American woman with blonde hair who was wearing a purple top on the night of November 3, as Ruby Freeman, a small business owner. She was identified primarily by her shirt and purse, emblazoned with "Lady Ruby" and "LaRuby" respectively. "LaRuby" is the name of her business, reports The Gateway Pundit.
Freeman can be seen at several points in the now-infamous video. She is seen standing over others while they remove the suitcases, then remove the ballots from the suitcases, suggesting she may have been acting in a supervisory role.
https://twitter.com/NationalFile/status/1334570814314844160
As The Gateway Pundit reported, Freeman was recorded in local news coverage about the alleged plumbing emergency that in reality was an isolated issue with one toilet.
Freeman was seen standing around other people as they work in a hurried manner, apparently observing the scene.
The Gateway Pundit noted:
Ruby's purse was a hit and several fans wrote her on her LinkedIn page after they saw her and her purse on TV.

They then commented on her LinkedIn page.

Ruby was wearing a different shirt but had the same purse by her side.
[caption id="attachment_19946" align="alignnone" width="575"]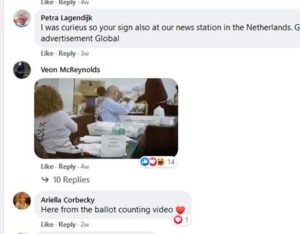 Credit: The Gateway Pundit[/caption]
On Thursday, Georgia Republican Party Chair David Shafer revealed that Georgia Secretary of State Brad Raffensperger, also a Republican, now agrees that "ballots were counted unlawfully and in secret." He has yet to call for signature verification of the mail-in ballot requests and returned ballots.
Read more at: NationalFile.com