Biden sends cluster bombs to Ukraine, contradicting his admin's past statement that use of such weapons is a WAR CRIME
---
Last week, President Joe Biden told
CNN
that he is
sending cluster bombs
, which are banned by more than 100 countries that joined an agreement called the "2008 Convention on Cluster Munitions" (CCM), to Ukraine.
Said bombs have been used extensively in the Gulf War, Chechnya, Afghanistan and Iraq. But those involved in the ongoing and "dragging war" –  Russia, Ukraine and the United States did not sign the treaty, making it "easy" for Biden to decide that these will be included in the new weapons package he'll send to Kyiv. He claimed, though, that he had a hard time deciding on this.
"It was a very difficult decision on my part. And by the way, I discussed this with our allies, I discussed this with our friends up on the Hill," Biden said in an interview with political commentator and journalist Fareed Zakaria. He then added, "The Ukrainians are running out of ammunition." The cluster bombs to be sent will all be "compatible with US-provided 155mm howitzers, a key piece of artillery that has allowed Ukraine to win back territory over the last year," according to the news outlet.
"This is a war relating to munitions. And they're running out of that ammunition, and we're low on it," Biden added. "And so, what I finally did, I took the recommendation of the Defense Department to – not permanently – but to allow for this transition period, while we get more 155 weapons, these shells, for the Ukrainians."
"They're trying to get through those trenches and stop those tanks from rolling. But it was not an easy decision," he continued. "We're not signatories to that agreement, but it took me a while to be convinced to do it." (Related: Biden set to approve CLUSTER BOMBS for Ukraine, even though they are BANNED in 120 countries.)
Just a year or so ago, then-White House Press Secretary Jen Psaki in a February 28, 2022 briefing, condemned the use of cluster bombs in the conflict, saying it was a "war crime." However, Biden now claimed to approve sending these war weapons under the justification that 'but Russia used them first,' implying that only the "bad guys" use them.
In fact, back in 2013 a lengthy letter from top-ranking Congressional Democrats addressed to then-President Barack Obama, highlighted how bad cluster bombs are as they are indiscriminate, unreliable and pose an unacceptable danger to U.S. forces and civilians alike." The correspondence also stressed these "cause unintended harm to civilians and civilian infrastructure, in many cases long after the cessation of hostilities," and recalled, "During Operation Desert Storm, U.S.-dropped cluster submunitions caused more U.S. troops casualties than any single Iraqi weapon system."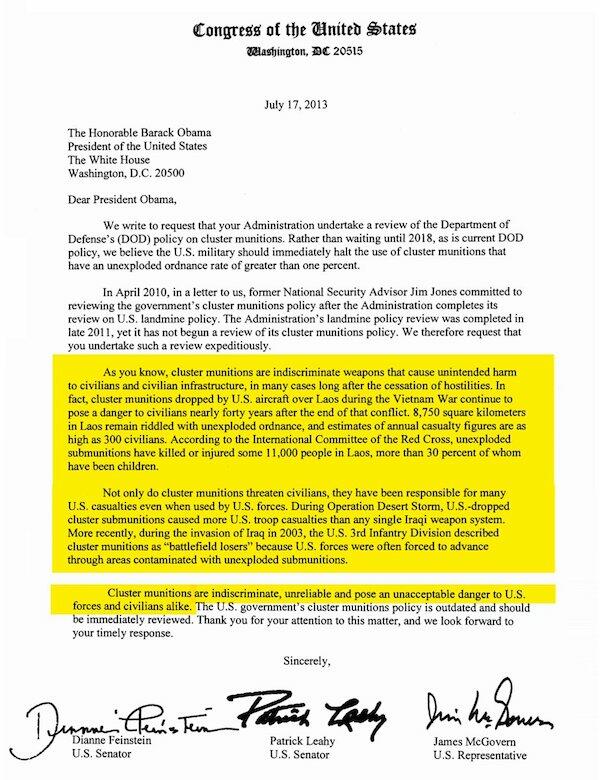 Cluster bombs can leave unexploded ordnance embedded in the ground only to maim or kill civilians, years after the war is over. The munitions detonate dozens of what are called "bomblets," and some can be left behind, unexploded. This creates, essentially, land mines for civilians who accidentally stumble upon the bomblet years later.
NO to CLUSTER BOMBS for Ukraine, German foreign minister says
Following the announcement, German Foreign Minister Annalena Baerbock said that the country, being one of the CCM states, opposed Biden's decision to augment Ukraine's munition with a new set of cluster bombs. Baerbock told reporters in Vienna that she followed the media reports. "For us, as a state party, the Oslo agreement applies," she added.
Sharing the same opinion with Baerbock, the international non-governmental organization Human Rights Watch called on Russia and Ukraine to stop using cluster munitions and urged the U.S. not to supply them. The group said that both Russian and Ukrainian forces have used the weapons, which have killed Ukrainian civilians.
As for North Atlantic Treaty Organization (NATO) leadership, Secretary General Jens Stoltenberg denied reports that the U.S. is set to announce cluster bombs for Ukraine. "This will be for governments to decide, not for NATO to decide," he said Friday. He essentially said that because Russia is already deploying them, it is okay for Ukraine to do the same.
"We are facing a brutal war, and we have to remember this brutality is reflected, that every day we see casualties, and that cluster munitions are used by both sides," Stoltenberg sought to justify. "And Russia used cluster munitions to invade another country. Ukraine is using cluster munitions to defend itself."
Follow WWIII.news to read more about the ongoing war in Ukraine and how the U.S. "fuels it."
Sources for this article include: