Something strange going on in Antarctica: COVID outbreak at fully vaxxed base soon after alleged Antarctic NWO meeting – One attendee tweeted: 'This will change everything… everything'
---
While the globalists continue to utter their mantra to the vaccine cult, 
"get vaccinated, wear masks, social distance"
, a new story out of the Antarctica is the perfect example proving they're babbling nonsense.
(Article republished from AllNewsPipeline.com)
With a COVID outbreak ongoing at the 'bottom of the Earth', Antarctica, a location where vaxxes are mandatory and they're practically sealed off from the rest of the world, how will the 'vaccine mandates' being pushed by Joe Biden and the globalists do any good at all? They won't, all of this is more proof this entire episode in US and world history was 'designed' to help them usher in tyranny!
This ANP story will combine several different stories/threads about something very strange going on in Antarctica. First, via Steve MacDonald of the Blue State Conservative.
I'm waiting for the number of kids with COVID to skyrocket as the numbers of the Jabbed increase, making them more susceptible to the virus to which they were once more naturally immune. Until then, we've got this story.
A Belgian scientific research station in Antarctica has been hit with an outbreak of Covid-19, despite workers being fully vaccinated and based in one of the world's remotest regions. 
Since 14 December, 11 workers at the Princess Elisabeth Polar Station have caught the virus. 
All have now recovered. 
"The situation isn't dramatic," Joseph Cheek, a project manager for the International Polar Foundation, told the BBC. "While it has been an inconvenience to have to quarantine certain members of the staff who caught the virus, it hasn't significantly affected our work at the station overall," Mr Cheek said. 
The IPF said that the first positive test was recorded on the 15 December, among a team that had arrived a few days earlier from Cape Town in South Africa. Eleven people in total tested positive, according to the IPF. Three left the station in December while eight remain there - at present there are 30 members of staff at the station. 
All residents at the base are required to be vaccinated before arriving and undergo several PCR tests. 
Princess Elisabeth station is operated by the International Polar Foundation and went into service in 2009. 
It isn't the first time research stations in Antarctica have been affected by a coronavirus outbreak. Last year, a number of Chilean military personnel based at Bernardo O'Higgins research station were infected after sailors on a supply ship tested positive for the virus.
Those pesky mRNA Viruses. They don't just have an arms-length list of potential adverse side effects (including death). These still unapproved experimental injections unflatten the curve.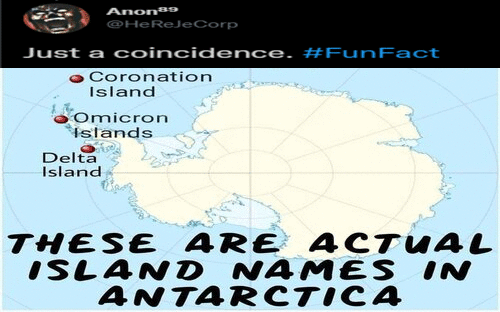 Next, this very interesting thread about the photographs and tweets seen above and below in which we learn that numerous globalists, including 'Great Reset' proponent Klaus Schwab, allegedly recently hinted of a very important meeting going on in the Antarctic of which one attendee tweeted: "Antarctica? This will change everything. Everything."
QUESTION: On July 13, did European Central Bank President Christine Legarde tweet? "Important meeting in Antarctica in December."
QUESTION: On Nov-30, did World Economic Forum boss and "Great Reset" pusher Klaus Schwab tweet? "Next stop Antarctica."
FACT: There is a "Rothschild Island" in Antarctica.
FACT: There is a "Delta Island" in Antarctica.
FACT: There is an "Omicron Island" in Antarctica.
FACT: There is a "Coronation Island" near Antarctica.
Just a very strange coincidence that those pushing a 'great reset' and a 'new world order' were highly enthusiastic of an 'Antarctica meeting' right before a COVID outbreak happened at one of their bases? And we have to ask, what of the Delta, Omicron and Rothschild Islands?
Read more at: AllNewsPipeline.com