'Bloomberg could have given every American $1 million' – Liberal media math exposed in stunning interview
---
They're not sending their best.
During a Thursday discussion over the amount of money Mike Bloomberg has spent on advertising during the 2020 election - some $500 million, MSNBC's Brian Williams and New York Times editorial board member Mara Gay promoted a Twitter user's very incorrect math.
(Article by Tyler Durden republished from ZeroHedge.com)
"Somebody tweeted recently that actually with the money he spent he could have given every American $1 million," said Gay.
"I've got it, let's put it up on the screen," replies Williams.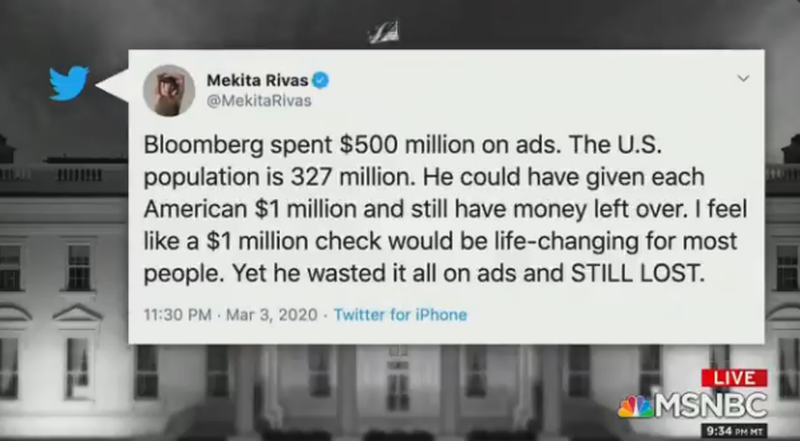 "When I read it tonight on social media it kind of all became clear," added the MSNBC host, who then reads the actual (now-deleted) tweet.
"Bloomberg spent $500 million on ads. The U.S. population is 327 million. He could have given each American $1 million and still have money left over," Williams read.
Watch:
https://twitter.com/RealSaavedra/status/1235802419734269952
In reality, Bloomberg's advertising dollars would have amounted to roughly $1.53 per American.
Keep in mind - Williams and Gay obviously don't understand math. But that tweet made it all the way through MSNBC's editorial process - and was made into an in-show graphic. And none of them caught the obvious error.
https://twitter.com/redsteeze/status/1235950333680947200
The author of the original tweet has set her account to private. Her bio now reads "I know, I'm bad at math."
Read more at: ZeroHedge.com