A 'scourge of pestilence' is brewing in America with the 'plague of leftism' unleashed on Democrat-run cities: 'suitable soil' for the world's next killer pandemic?
---
In this 
November 21st story over at the Financial Times they report
 that largely due to '
globalization
' and the ability for people to move from one location to another halfway around the world within hours, deadly contagious diseases such as '
Ebola
' have the potential to spread worldwide, very rapidly, with their story also reporting that so-called '
global health failures
' present a risk to our entire, interconnected world.
(Article by Stefan Stanford republished from AllNewsPipeline.com)
Reporting also that healthcare professionals warn that the 'unpreparedness' for pandemics by some 3rd world nations has put the entire planet at serious risk of another deadly outbreak in the future, with the world's poorest countries at the greatest risk of becoming 'suitable soil' for something nasty, all Americans need to do is take a look at Democrat-run cities all across the US to see a very similar pattern emerging here. With 3rd world diseases such as typhus, typhoid fever, tuberculosis and other Medieval diseases long thought eradicated from America emerging again thanks largely to Democrat political policies.
And while the Financial Times story argues: "Governments, policymakers and donors must face facts. Piecemeal, reactive approaches to global health are expensive and ineffective. Disease knows no boundary. Actions based on the control of a single disease do not build the robust, long-term systems that are needed — not only to stop another outbreak but to address myriad other ailments that go untreated", as we'll explore within this ANP story, as Mac Slavo reports in this new story at SHTFPlan, "the grim reality of pandemics is that most countries, including the United States, are not prepared for the eventuality. But just because governments are not prepared to protect the public, doesn't mean you don't have to be either."
So we'll take a look in the next section of our story below at more signs the next big pandemic or epidemic might be on the horizon and being 'brewed' this very moment not within a 3rd world nation overseas but in the streets of San Francisco or Los Angeles or Portland or Baltimore, democrat strangleholds, right here in America. And in the final section at the bottom of this story, we'll take Mac Slavo's advice to heart and look at how we can prepare our homes and our families for a scourge of pestilence that we pray never comes.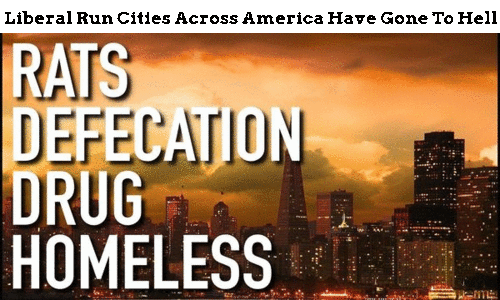 Back in June, the National Review put out this story reporting that California had become America's first '3rd World State' with a massive outbreak of long thought vanquished 3rd world diseases, a crumbling infrastructure, rampant government corruption, gangs, crime and a totally out of touch 'wealthy elite', putting large parts of the state on the same level as some Asian, African and Latin American nations long given that '3rd world' label.
Reporting within their story that the current meaning of "Third World" had come to transcend geography, politics, and ethnicity, it simply denotes poor failed states all over the globe of all races and religions, their story then went on to explain how California, despite having some of the richest people living there in the entire country, also now fits many of the criteria required to be a '3rd world nation'.
Read more at: AllNewsPipeline.com and LeftCult.com.