https://www.naturalnews.com/048891_KFC_chickens_mystery_organs.html
---
(NaturalNews) Just when you think that fast food couldn't possibly be any more disgusting, a California teenager finds what he believes is a chicken's brain alongside his chicken breast, thighs and corn. Like many students, Manuel Cobarubies was looking for a quick meal when he decided to roll by KFC on Martin Luther King Boulevard in Stockton.
"(It looked) like a brain to me. I mean at that point, red flags were kind of raised," Cobarubies told reporters.
After digging into his $4 meal, Cobarubies was stunned upon discovering what looked like some sort of animal body part, which according to KFC, was simply a kidney or a gizzard, and "safe to eat,"
reported
FOX40.
Unfortunately, the teen was so disgusted by his finding (especially since he's a regular at KFC) that he didn't get to finish his meal.
California teen discovers what appears to be a chicken brain alongside his chicken breast, thighs and corn
"I ended up spitting it in the trash can because I get grossed out by that," said Cobarubies. But before he got rid of it, he did what most of us would do; he took to social media to share the horrific image.
"I found a #*@*ing brain in my KFC," Cobarubies tweeted. "[D]on't eat at the KFC on Martin Luther king blvd." The tweet included a picture of the discovered organ: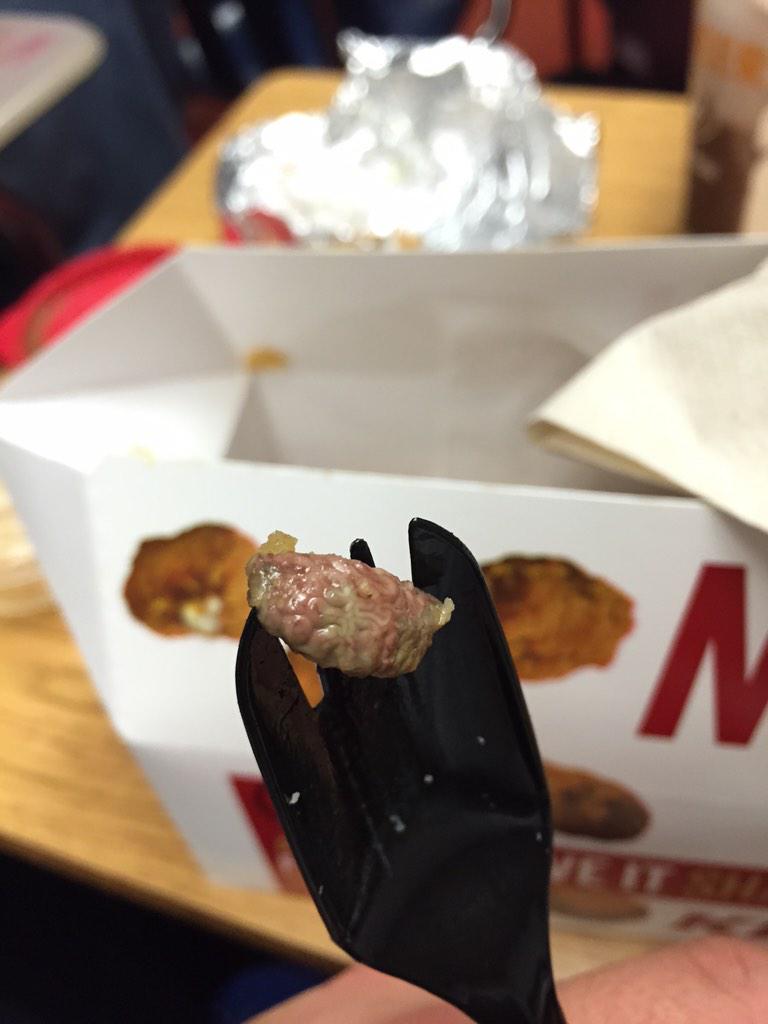 It didn't take long for the teen's Tweet to go viral, attracting news outlets from around the nation. "I directly mentioned to them and a bunch of people started tagging them and I guess it kind of raised awareness to them when a lot of people started tagging them in my tweet," Cobarubies said.
However, unsurprisingly,
KFC
did not respond so promptly, but when they did the fast food franchise -- which is known for making headlines for torturing chickens by twisting their heads off and slamming them against walls -- offered a cheap and presumably insincere "sorry."
The teen said all he really wanted was his lunch money back. "As far as what I paid for my meal because I mean my meal didn't sit too well with me. I think that might be it," said Cobarubies.
Hoping to make that happen, FOX40 tweeted KFC and made a phone call to the company's corporate headquarters in Louisville, Kentucky.
The teen said he eventually received another call from KFC, this time from Richard Ramos, a KFC area consultant who assured him that the brain was actually just a kidney or a gizzard, adding that it's totally safe to eat.
Unfortunately, Cobarubies' isn't the first to find questionable items in his KFC meal.
A report by HuffPo lists
dozens of examples
of other people finding mysterious body parts in their KFC meals, many of which, again, resemble chicken brains.
KFC's history of chicken abuse
After being involved in multiple scandals, it is amazing that KFC is still in business. More than a decade ago, a video surreptitiously taken by an investigator for the People for the Ethical Treatment of Animals who worked from October 2003 to May 2004 at a Pilgrim's Pride plant in Moorefield, W. Va, showed some the worst examples of animal abuse ever recorded.
The undercover investigator reported seeing "'hundreds' of acts of cruelty, including workers tearing beaks off, ripping a bird's head off to write graffiti in blood, spitting tobacco juice into birds' mouths, plucking feathers to 'make it snow,' suffocating a chicken by tying a latex glove over its head, and squeezing birds like water balloons to spray feces over other birds,"
reported
The New York Times.
The plant responsible for committing such heinous acts won KFC's "Supplier of the Year" award in 1997.
Unfortunately, like many controversial reports, particularly involving animal abuse, the shock lasted only a short time before consumers forgot the incident ever occurred.
Sources:
http://www.huffingtonpost.co.uk
http://fox40.com
http://www.kentuckyfriedcruelty.com
http://www.nytimes.com
Receive Our Free Email Newsletter
Get independent news alerts on natural cures, food lab tests, cannabis medicine, science, robotics, drones, privacy and more.
Take Action: Support Natural News by linking to this article from your website
Permalink to this article:

Embed article link: (copy HTML code below):

Reprinting this article:
Non-commercial use OK, cite NaturalNews.com with clickable link.
Follow Natural News on Facebook, Twitter, Google Plus, and Pinterest